Vitality
Inverclyde Leisure in partnership with NHS Greater Glasgow & Clyde provide Vitality, an exercise programme designed to support those who might have different physical abilities and medical conditions.
Our Vitality exercise classes support participants to exercise to a level that suits their needs, whilst building and maintaining strength, co-ordination, endurance, and flexibility.
Participants may have limited mobility at first, but this can improve with specially designed exercise classes.
Vitality is suitable for people with many different conditions, including:
Parkinsons
Multiple sclerosis (MS)
Stroke
Cardiac conditions
Osteoporosis
Cognitive impairments
If you are interested in this programme and need more information, please contact us on 01475 213130.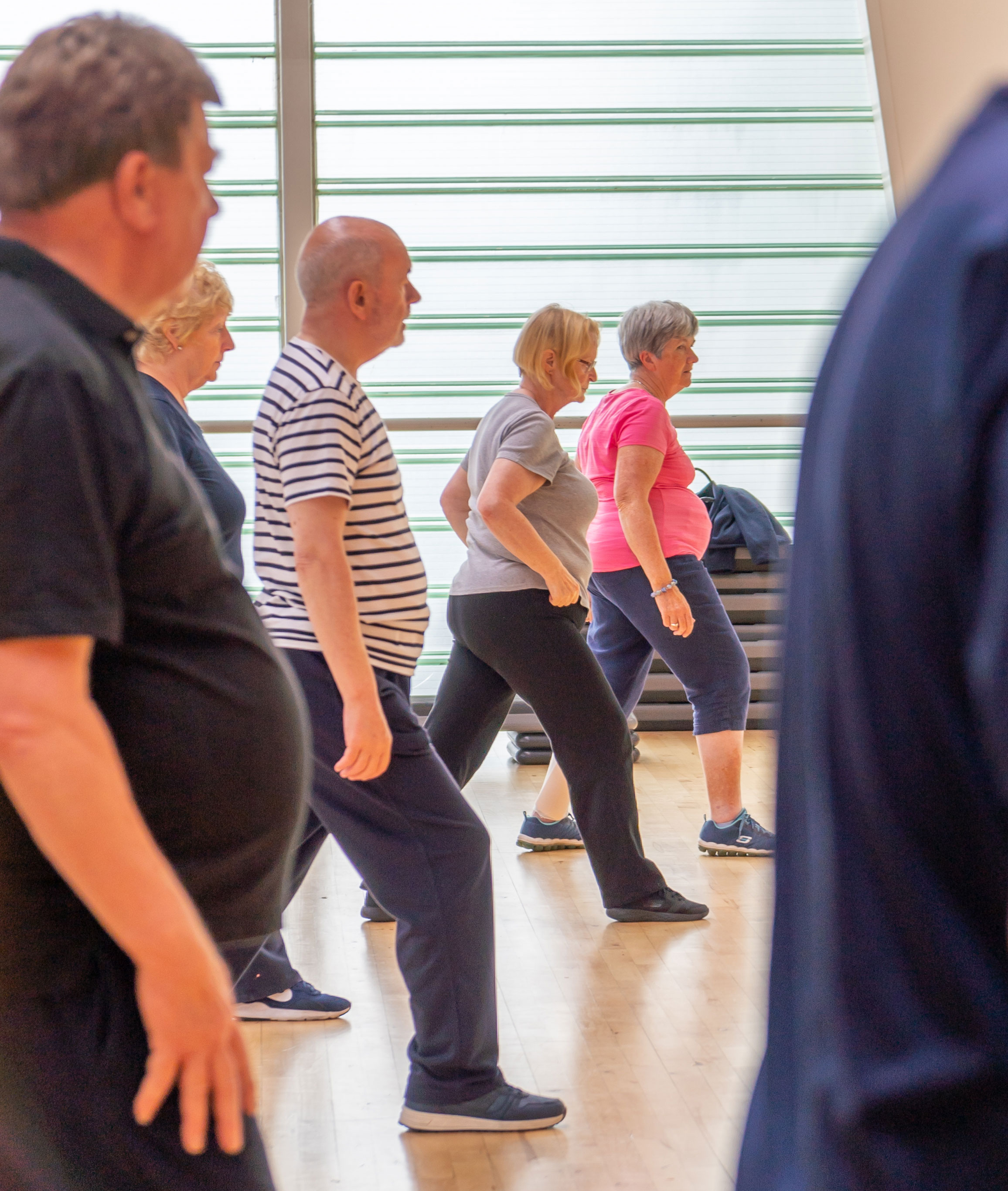 Vitality Step In, Level 1-3
Vitality Step In circuits is designed for those with independent mobility but may have some difficulty doing daily activities. It is suitable for those who want to start or keep active, improving strength, co-ordination, fitness and flexibility.
Vitality Step Up, Level 4
For those who are mobile (without an aid) and who have minimal difficulty doing daily activities. This class will help improve fitness and strength.
| | | | |
| --- | --- | --- | --- |
| Day | Class | Venue | Time |
| Monday | Live Active Gym Class | Greenock Sports Centre | 10:00 - 11:00 |
| Monday | Vitality Strength & Balance Circuit | Greenock Sports Centre | 11:00 - 12:00 |
| Monday | Vitality Step In | Greenock Sports Centre | 13:30 - 14:30 |
| Tuesday | Vitality Step In | Greenock Sports Centre | 10:30 - 11:30 |
| Tuesday | Live Active Gym Class | Waterfront Leisure Complex | 11:00 - 12:00 |
| Tuesday | Live Active Gym Class | Gourock Fitness Gym | 13:00 - 14:00 |
| Tuesday | Strength & Balance Class | Greenock Sports Centre | 13:30 - 14:30 |
| Wednesday | Strength & Balance Class | Boglestone Activity Centre | 10:30 - 11.30 |
| Wednesday | Live Active Gym Class | Boglestone Activity Centre | 13:00 - 14:00 |
| Thursday | Live Active Gym Class | Waterfront Leisure Complex | 09:30 - 10:30 |
| Thursday | Live Active Gym Class | Gourock | 13:00 - 14:00 |
| Thursday | Vitality Step Up | Boglestone Activity Centre | 13:30 - 14:30 |
| Friday | Vitality Step In | Greenock Sports Centre | 10:00 - 11:00 |
| Friday | Move More | Greenock Sports Centre | 10:00 - 11:00 |