World Cancer Day 2023
When it comes to cancer, evidence suggests that one in three of the population will be diagnosed with the disease during their lifetime. This means that at any one time there are over 1.8 million cancer survivors in the UK. With such high figures, it's important for us to understand what we can do to help with prevention of cancer occurring in our own lives.
There are some lifestyle changes which we all are able make to, which helps to reduce risk factors such as being to be physically active! There is strong evidence demonstrating the positive effects of being active has on our physical and mental wellbeing and during and after cancer diagnosis.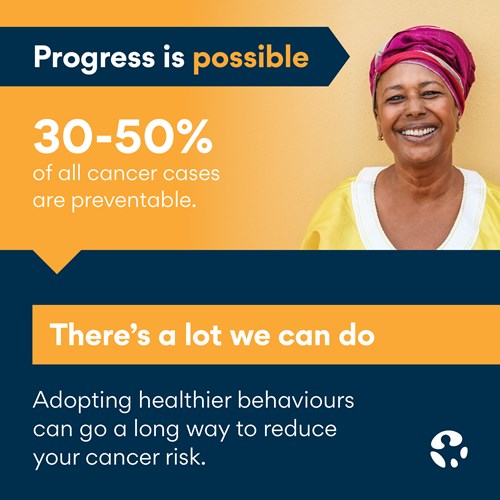 So how can exercise reduce the risk factor of Cancer?
According to the World Cancer Research Fund (WCRF, 2018), the following recommendations can help support cancer prevention:
Having a healthy weight & reducing body fat percentage
Exercising regularly
Eating more fruit, vegetables & pulses
Limiting the consumption of "Fast Food", process foods high in fat, starches or sugars
Limiting the consumption of red & processed meat
Limiting consumption of sugar sweetened drinks
Limiting alcohol consumption
Stopping smoking
How can exercise help after a Cancer diagnosis?
Research has suggested that after a diagnosis, the benefits of exercise don't stop but can actually help with the following (Thomas R, 2014):
Improving quality of life
Reducing side effects of medication
Lowering the risk of their cancer returning
Generally surviving longer
How can we help?
The physical activity guidelines for people going through cancer are similar to the guidelines from the UK public health guidelines for the general population. It's recommended that cancer survivors should (ACSM, 2021):
Reduce sedentary behaviour
Increase exercise levels – exercise is generally safe for cancer survivors both during & after treatment.
Undertake at least 150 minutes of moderate aerobic activity throughout the week
Undertake resistance training moderately that involve all muscle groups at least 2 or more days a week
Stretch major muscle groups & engage in balance activities
In order to help individuals, engage in these forms of exercises, here at Inverclyde Leisure we have Specialist Instructors who have a good understanding of the effects of cancer and its treatments, to help ensure that when you engage in exercise, you're doing it in a safe, appropriate and effective way. Each diagnosis of cancer is very specific to the individual, which is why our specialist instructors will prescribe a tailored programme particular consisting of the following:
The type of treatment(s) you are receiving or have undertaken, e.g., chemotherapy
The specific effects of the disease and treatment on the body. These may be specific to an area of the body or can have more wide-spread effects throughout the body.
What stage you are at in your treatment. The ability of a cancer survivor to participate in exercise (and their training response) may vary depending on whether they are currently receiving or have completed treatment.
This is achieved through our Live Active programme.
Live Active aims to improve the health of the residents of Inverclyde by:
Increasing physical activity levels by supporting participants to gain the knowledge, tools and confidence to lead a physically active life.
Improving overall health by encouraging participants to address other health behaviours such as smoking, diet, and alcohol.
Participants must be referred by their GP, practice nurse or other health professional who will assess their suitability to be referred onto the scheme.
For further information, please contact our Live Active advisors on 01475 213136.