Newly Refurbished Gym at Birkmyre - COMING SOON
We can't wait to bring you a new look BIRKMYRE PARK FITNESS GYM this Spring!
Not only are we installing new flooring and additional lighting throughout the gym, but you can benefit from BRAND NEW state-of-the-art Technogym equipment at our newly refurbished gym for the Kilmacolm community & beyond!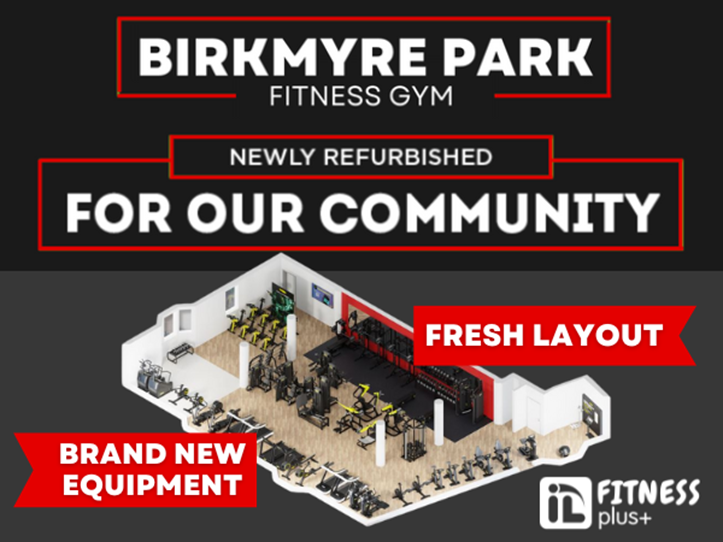 The site will be closed from 10pm Wednesday 29th March for refurbishments. We aim to reopen on Tuesday 4th April with a new look gym!
Don't worry, you can still access all other 7 Fitness Gyms included in the Fitness Plus+ membership during this time so you don't miss a workout!
What can you expect from your new gym?
We are going to bring in two new stair masters which are one of the most popular pieces of Gym Equipment currently in use around the world.
We are also adding 2 Technogym MyRide bikes which allow for the most interactive experience possible in indoor cycling.
These bikes can replicate outdoor routes with a GPS and satellite trail on how you performed outside. 
We are also adding new treadmills, cross trainers and a Plate Loaded Hip Thrust. 
WE CAN'T WAIT TO SEE WHAT YOU THINK OF YOUR NEW GYM!
---
We're all about investing in the community and doing what we can to make them happier, healthier, and not financially out of pocket.
If you join our Fitness Plus+ membership today, not only will you benefit from no joining fee, but will get to enjoy state-of-the-art Technogym equipment, which is one of the leading producers of fitness and wellness equipment.
To celebrate the new upgrades, we are offering a NO JOINING FEE on all Fitness Plus+ memberships taken out at Birkmyre Fitness Gym!
Click here to join online today.
---
WE'RE ALWAYS INVESTING 
IN THE COMMUNITY
Inverclyde is all about investing in the community, so why not get started and invest in your health today? We look forward to your next visit.