Join Inverclyde Leisure's Community walking challenge
We Need You!  March into Spring with Inverclyde Leisure and World Walking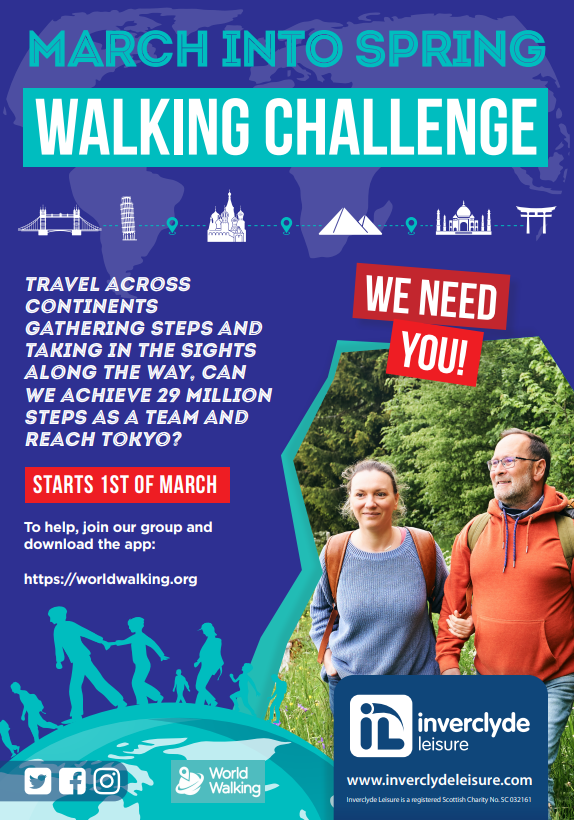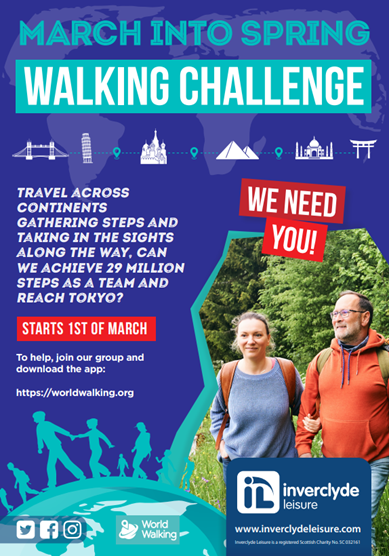 Inverclyde Leisure and World Walking are teaming up to encourage Inverclyde to get walking this March with an epic virtual walk challenge.
Travel across continents gathering steps and taking in the sights along the way, helping to reach the target of at least 30 million steps!
The first route will be from Inverclyde starting at the Waterfront Leisure Complex all the way to London (1million steps.)
Getting Started.....it's simple to register.
Download the world walking app by following the guidance below
There are two easy ways to set up
Download free App on smart phone or tablet (most convenient!)
From an Apple device please  click here to download app
From an Android device please click here to download app
or register by on the website select click this link and create an account using the your email address and secure a password 
Search groups on home page and select March into spring with Inverclyde Leisure or click this link
You will automatically be taken to your own World Walking Home page, known as your 'Dashboard' on website
You will also see the walk route that has been set up, select the walk and 'start walk'.
Remember every step counts!.......Linking your step counting device
Tap on the Settings button on the bottom right hand corner of your home page (when using the App) or top of your home page (on website)
Under 'Apps' Select Connect to Fit bit or phone
Your steps will now be available to transfer across to your World Walking App to contribute to the challenge!
You can also track steps on you phone by using the GPS function on the app
If your step counter cannot link up with the app you can still enter the steps manually by typing the steps displayed on your activity tracker.
Entering/Spending your steps on your challenge along the way
After linking your step counting device to the World Walking App your steps will automatically be recorded on your 'Dashboard'
To add the steps to your walk route tap on the arrow beside the steps banked
Drag the blue circle along the scale from left to right to select all the steps
Select 'Choose walk'
Select the name of the selected walk you would like to contribute your steps to
Then 'Add'
Your contribution of steps will now be added to your walk.
You can upload your steps as often as you like. You may wish to 'spend your steps' at the end of each day or weekly?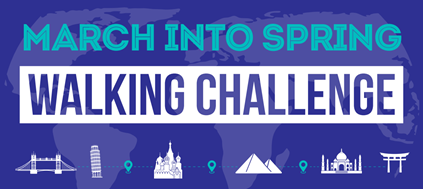 Additional information
Walking is a great way to improve or maintain your overall health. Just 30 minutes every day can increase cardiovascular fitness, strengthen bones, reduce excess body fat, and boost muscle power and endurance. And help reduce anxiety and depression
The beauty of walking is that it's free, it doesn't require a lot of special equipment and can be done almost anywhere. Walking is an under-appreciated way to get the heart pumping and muscles working. 
You can track your progress as a group as well as individually as all steps will be stored on your dashboard. This will allow you to set personal goals for yourself whilst enjoying the motivation of being part of a 'team'!
You can track the progress of the group and individually, as all steps will be stored on each person's dashboard. This will allow everyone to set personal goals whilst enjoying the motivation of being part of the Inverclyde Leisure 'team'!
You can visit and learn about famous landmarks or milestones as you pass them on your virtual walking route.
You can earn virtual rewards and badges with your special achievements
You can take pictures of the wonderful scenery that you take in as you walk outdoors and upload to the World Walking app to share with the other walkers in your challenge.
We will post a video guide on Inverclyde Leisure Facebook page to help everyone get set up for the challenge.
World Walking website www.world walking.org   
lets all get together and get Inverclyde more active during March.....every step counts.