IL Welcome Support Sponsors For Warrior 5K!
Inverclyde Leisure is delighted to welcome our support sponsors for the Inverclyde Warrior 5K Event!
We were joined with representatives from Arnold Clark, PG Paper, and Blair Windows who will all provide additional support towards running costs on the day, the additional support will help towards providing participants with t-shirts, entertainment , safety support and goodie bags.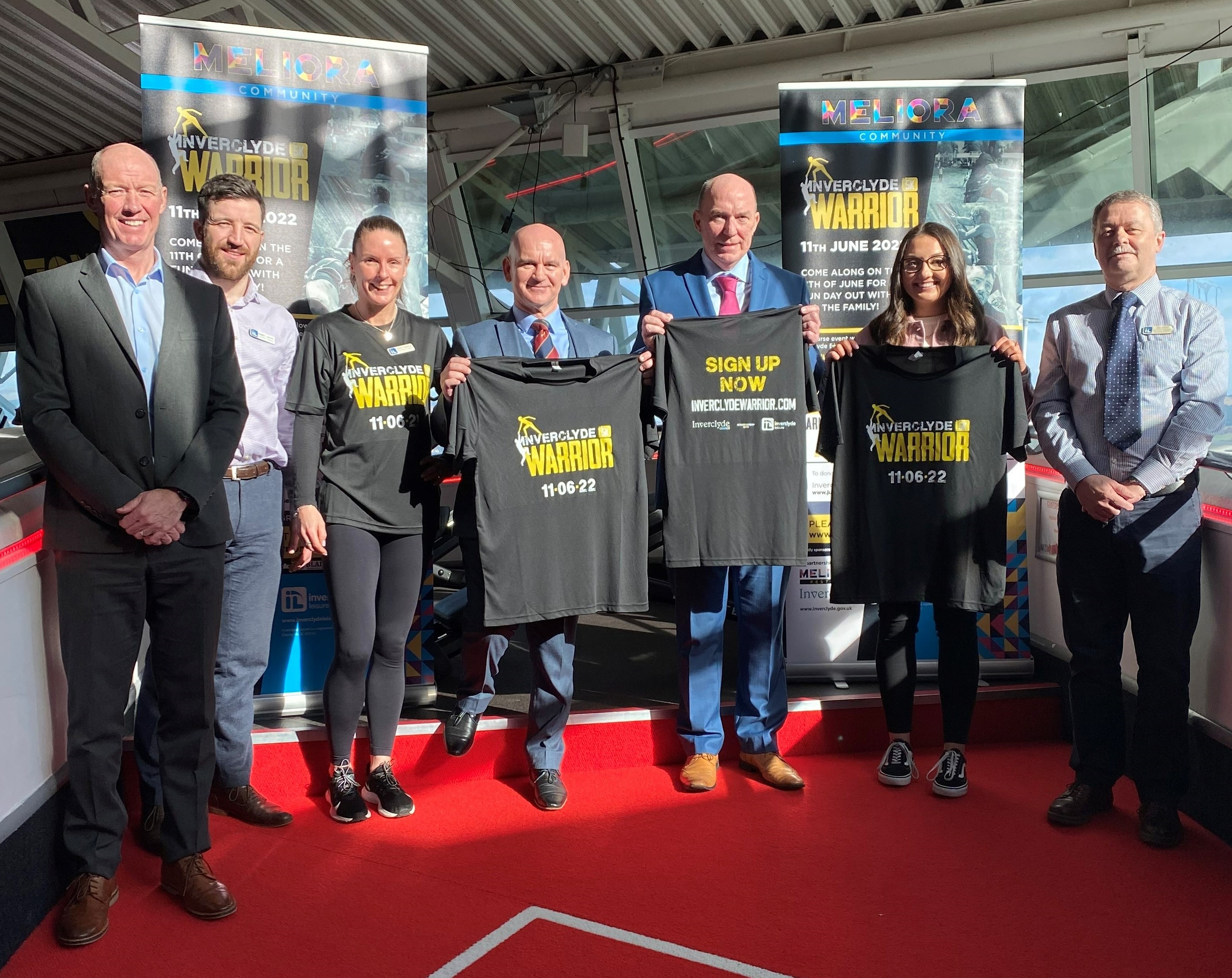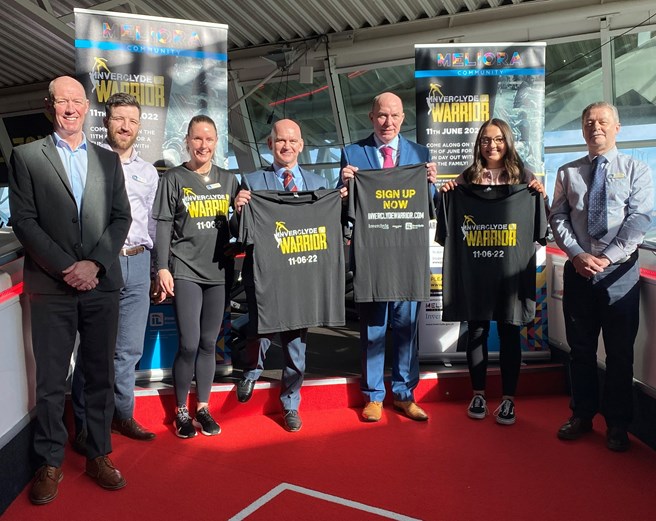 Paul McCafferty, General Manager of Arnold Clark Greenock, said: "At Arnold Clark, we're passionate about giving back to our local communities. That's why we're delighted to support the Inverclyde Warrior Event. It's a truly fantastic opportunity for participants to meet people from the local community and challenge themselves while trying something new. Good luck to everyone taking part!"
Our chosen charity for the event is Inverclyde Community Fund who distributes funding through a number of different grant programmes, on behalf of public and private sector partners to the benefit of the Inverclyde Community.
Joe Boyd, Operations Manager at Blairs Windows, said, "Blairs Windows and Doors are pleased to be supporting the first Inverclyde Warrior Event taking place in June 2022, it is also great to see the chosen charity for this event is Inverclyde Community fund - further supporting our ethos of giving back to the local community and helping Inverclyde to become an even better place."
Puneet Gupta, CEO at PG Paper, said: "After the difficult times over the past two years when events like this have been unable to take place, we are delighted to be supporting Inverclyde Warrior. Our involvement has reminded us just how important both our physical and mental well-being is, and I'm looking forward to taking part with my team."
Our sponsors will have teams taking part in the event, using the Warrior 5K as an opportunity some great team building after a difficult few years. Holly Stinson, Marketing Manager at PG Paper said, "The whole PG Paper team is looking forward to the event. Many of us live locally and are excited to get involved with the community. It will be a brilliant opportunity for team building, and what I hope will be a lot of laughs together."
---
The Inverclyde Warrior 5K will be a five-kilometre obstacle course featuring flying monkey bars, ninja walls, balance boards, walking beams, crawl and cargo nets, climbing frames and the iconic Travelator seen in Gladiators, taking place at Battery Park in Gourock in June 2022.
The event is part of Inverclyde Council's Meliora Festival 2022, The event course and obstacles has been entirely funded by Inverclyde Council which is part of the Inverclyde Council's Covid-19 recovery grant. Inverclyde Leisure is organising and facilitating the event in close partnership with Inverclyde Council.
The

Secondary schools event will take place on Friday 10th June

integrating the 6 high schools in Inverclyde and the main event is open to everyone on

Saturday 11th June 2022.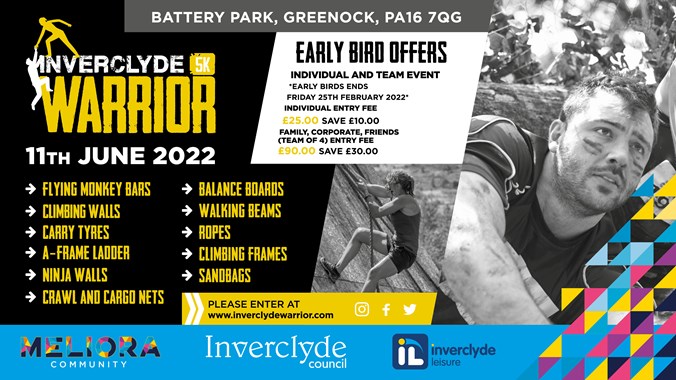 Still not secured your place? Perhaps you'd like to take part with your work colleagues, friends for a great team day out?