Move More
Move More Inverclyde in partnership with Macmillan is a programme which provides free one to one support for up to 12 months and offers classes designed to help those affected by cancer become more active.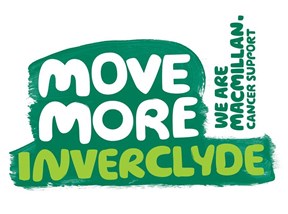 Taking part in physical activity during and after cancer treatment can play a huge part in enabling you to take back control and get back to 'normal' as much as possible. That's why our free Move More classes at Inverclyde Leisure will support you in becoming more active at a pace that suits you.
Our activities are led by specially trained cancer rehabilitation and exercise instructors, and we have a wide range of activities that will suit any level, including:
Circuits

which use variety of simple, guided cardiovascular and strength exercises that are adaptable to participants' individual needs.

Walking

activities which are short, sociable and provide a supportive environment for anyone affected by cancer, including people living with cancer, friends, family, and carers.

Gentle Movement

to help you relax and reduce stress with breathing techniques. The Tai Chi/Chi Gong style movements are great for improving flexibility, balance, coordination, and strength.